What are Tyre Wear Indicators?
Today, all major tyre manufacturers build a Tread Wear Indicators into their tread. These raised lines are visible in the groove of the tyre so when they are flush with the main surface of the tyre, you know it's time to change them.
Tyre Change
Our experts will then fit your new tyres correctly, ensuring that they are the right size, balance and at the right pressure.
Each tyre change consists of three elements:
Valve:
Our experts always recommend replacing the valve with each and every tyre change. This helps to maintain the correct tyre pressure and avoids further age, damage or deterioration. We also replace missing valve caps to prevent any dust or dirt from entering your new tyre.
Balance:
When fitting new tyres to a vehicle, the new tyre, the material or fittings may contain 'heavy spots'disrupting your vehicle's wheel balance. Unbalanced wheels will almost always cause unnecessary and uncomfortable driving vibrations that can lead to premature wear on your tyres, steering and suspension. our experts will always add balance weights to the wheel to ensure that your wheels remain perfectly balanced.
When To Check Your Tyre Pressure
We recommend you should check your tyre pressure every two weeks and before any long journey to ensure they meet the manufacturer's recommendations. We understand checking your tyre pressure's can be quite the hassle so why not come down to us, no need to book an appointment and we will check all your tyres pressures & depths whilst you wait to ensure your tyres will keep you going. Incorrect tyre pressures can cause unnecessary wear on your tyres which means they could wear unevenly or even need replacing prematurely. If you're unsure what your car tyre pressure should be, then consult your handbook or ask one of our experts.
Reading Your Tyre Size
Tyre Width refers to the width of your tyre's cross-section in millimetres.
Tyre Profile refers to the height of the tyre sidewall as a percentage of the nominal section width.
Rim Diameter refers to indicate the construction of the tyre, with the number following it indicating the diameter of the tyres inner rim in inches.
Speed Rating refers to the speed at which the tyre can carry the load corresponding to the Load Capacity Index.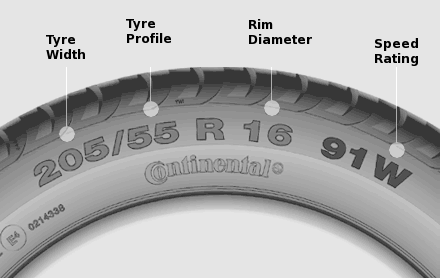 All major brands of tyres supplied and fitted at competitive prices. We specialise in fitting high performance run-flat tyres on alloy wheels sizes up 24" diameter. We employ the latest tyre fitting and balancing equipment.
Call Us Today For A Quotation